Carps and grass carp arrived in the fishing ponds with association support
Despite the difficult economic conditions and high fish prices, the Vas County Association of Sport Fishing Associations has released nearly 60 tons of carp into the waters of Vas with today's stocking. In late autumn, fishing subsidies for member associations usually take place, as was the case today, for which we would like to thank the supporting fishing organization. Our association works together with the associations to offer all anglers a joyful recreation and wonderful fishing experiences on Vasi Vize!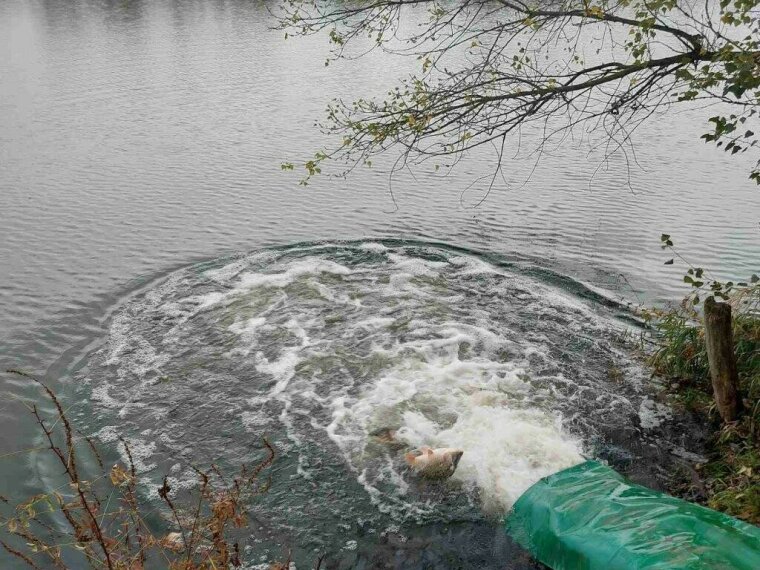 The following fish shipments arrived today from the Zalaszentgrót site of Tógazda Zrt. - supervised by fisheries guards Balázs Szekeres and Károly Sipos -
Lake Csánigi: 50 kg grass carp, 150 kg carp (supported by Répcelaki HE)
Lake Répcelaki (C&R): 50 kg of carp (supported by HE Répcelaki)
Újperint I. lake: 50 kg carp, 250 kg carp (supported by Spartacus HE)
Csepreg Téglagyári lake: 50 kg carp, 150 kg carp (supported by Répcementi HE.
Vasvár lakes: 50 kg amur, 300 kg carp (with the support of Vasvár Petőfi HE.)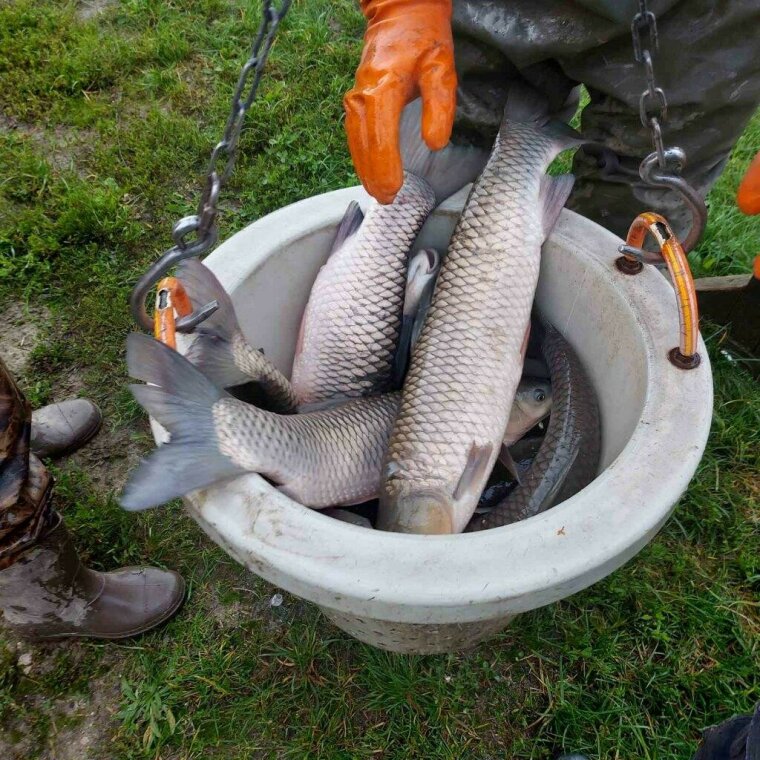 Our Association has official permits for the stocking of the grass carp described above, and they were carried out according to the current fish management plans. During the month of November, 1,500 kg of extra-sized carp, a significant amount of bream around 55-60 máza, and 600-700 kg of perch will be planted, which will be realized with the partial support of MOHOSZ. After the installation, a general fishing ban was not ordered in any water area, so that everyone can indulge their passion as soon as possible.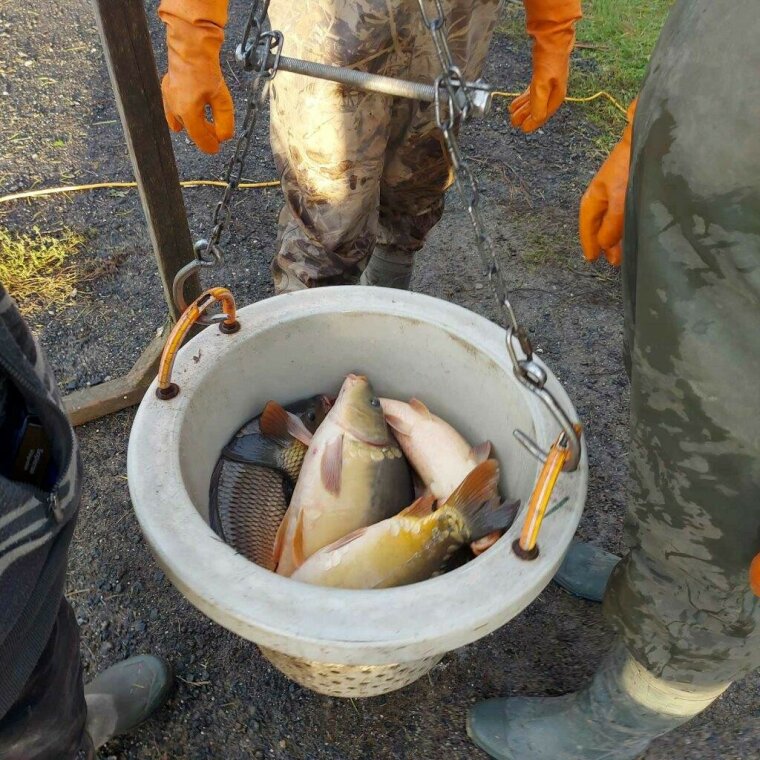 Once again, we would like to draw the attention of T. Horgásztársak to the fact that in all the water areas under our management, the quantity of carp that can be kept, contrary to the national regulations, is 2 pieces, the size of which is min. 30 and max. 50 cm!
T. Fishing partners are requested to act carefully during their fishing in order to avoid inconveniences and penalties due to irregularities, and to inform themselves in advance about the local fishing regulations valid for the given water area!
The Presidency of the Association once again supported that from August 1, 2023, it is possible to exchange half-yearly adult (HUF 46,000) and youth (HUF 23,000) area permits for the Vasu waters at a DISCOUNT PRICE.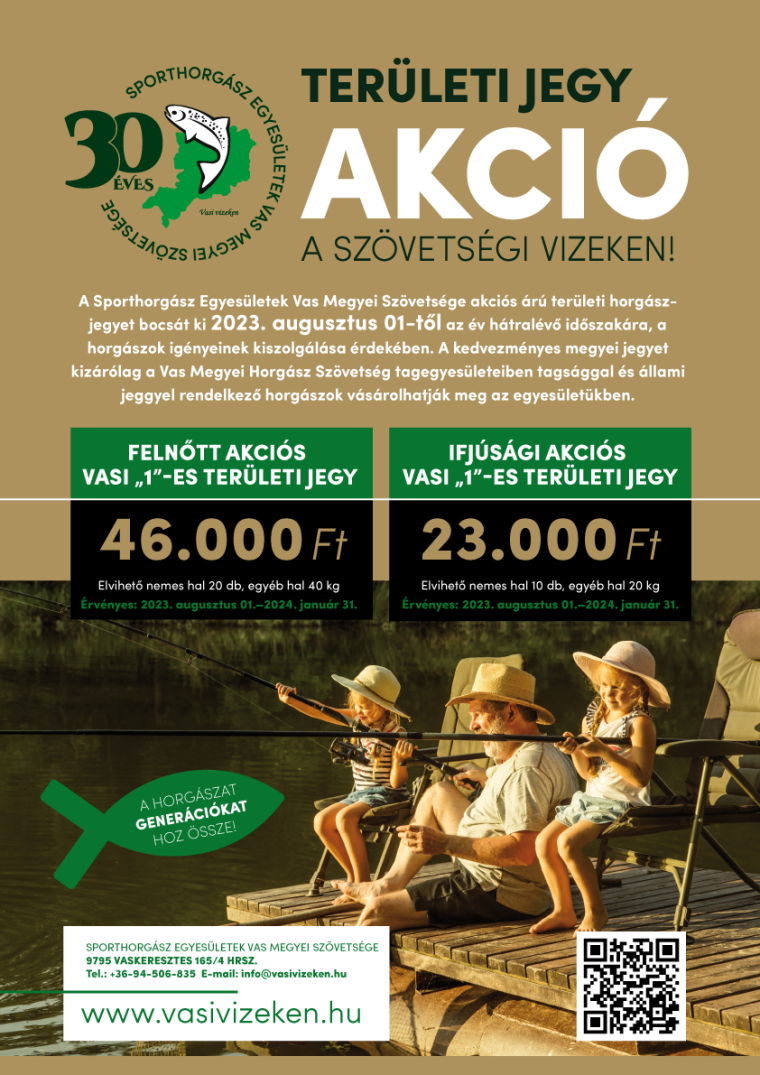 It's still not too late to renew your iron fishing license for the fall season and spend your free time at the water's edge in the company of friends!
Additional useful information:
In the customer service office of the Association in Vaskerzeste, the possibility of personal administration (e.g.: changing tickets, applying for a fishing card, etc.) is provided by prior appointment. Appointments can be made by calling +36 94-506-835; +36 70 3399 703 or by e-mail at info@vasivizeken.hu. After making an appointment, the colleagues will continue to be available to fellow anglers in the following customer service order in 2023:

✅ Monday: 8:15 a.m. – 3:45 p.m.;
✅ Tuesday: 8:15 a.m. – 3:45 p.m.;
✅ Wednesday: 8:15 a.m. – 3:45 p.m.;
✅ Thursday: 8:15 a.m. – 3:45 p.m.;
✅ Friday: 8:15 a.m. – 2:45 p.m.;
❎ Saturday-Sunday: no customer service.
We hope they will continue to choose our waters and our community in 2024!
Thank you for your trust in our fishing community and our iron waters!
Related gallery