Our traditional fishing ticket sale starts in January
True to the traditions of previous years, we will once again launch our highly popular regional fishing ticket sale in January 2023. In the past period, we delivered a total of 11,500 pieces of state fishing documents to sales points.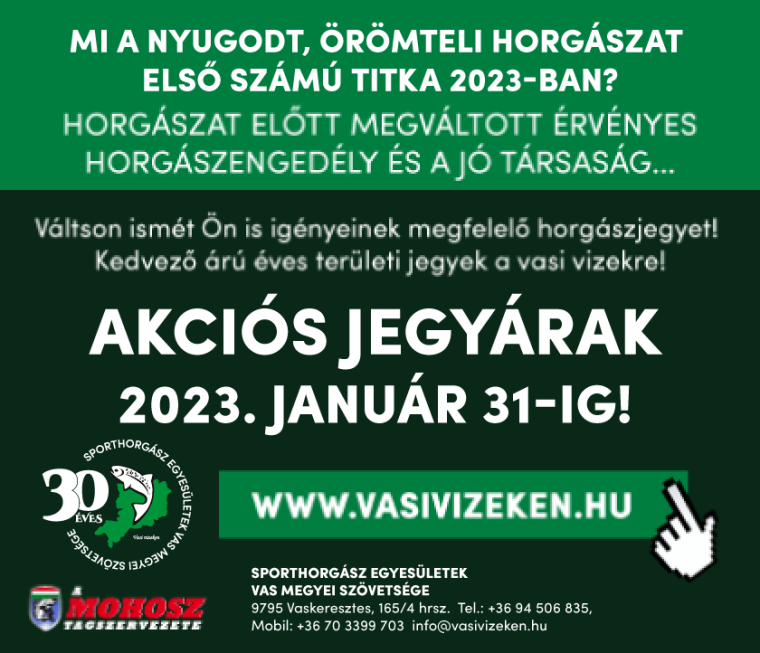 In accordance with MOHOSZ regulations, we have once again produced our previously available popular regional tickets electronically, and there are no technical obstacles to their sale in January. We would like to remind fellow anglers that the 2022 state tickets and annual regional tickets are valid until January 31, 2023, so you can fish with them without any problems at the beginning of the next year. In the majority of our fishing associations, the sale of area tickets for 2023 will begin in the first half of January. Please find out in advance about the customer reception regulations of the associations and please observe the individual requirements and requests of the ticket sales points.
Additional useful information:
🐟 Availability of annual state and regional fishing ticket distribution points>>>
🐠 Ticket prices from January 1, 2023>>>
🐟 Federal territory ticket purchase with SZÉP card >>>
🐠 You can even order your permit at home>>>
🐟 Changes to the fishing regulations from January 1, 2023>>>
🐠 Fishing rules in a uniform structure from January 1, 2023 >>>
In the customer service office of the Association in Vaskerzestes, the possibility of personal administration (e.g.: changing tickets, applying for a fishing card, etc.) is provided by prior appointment from January 3, 2023.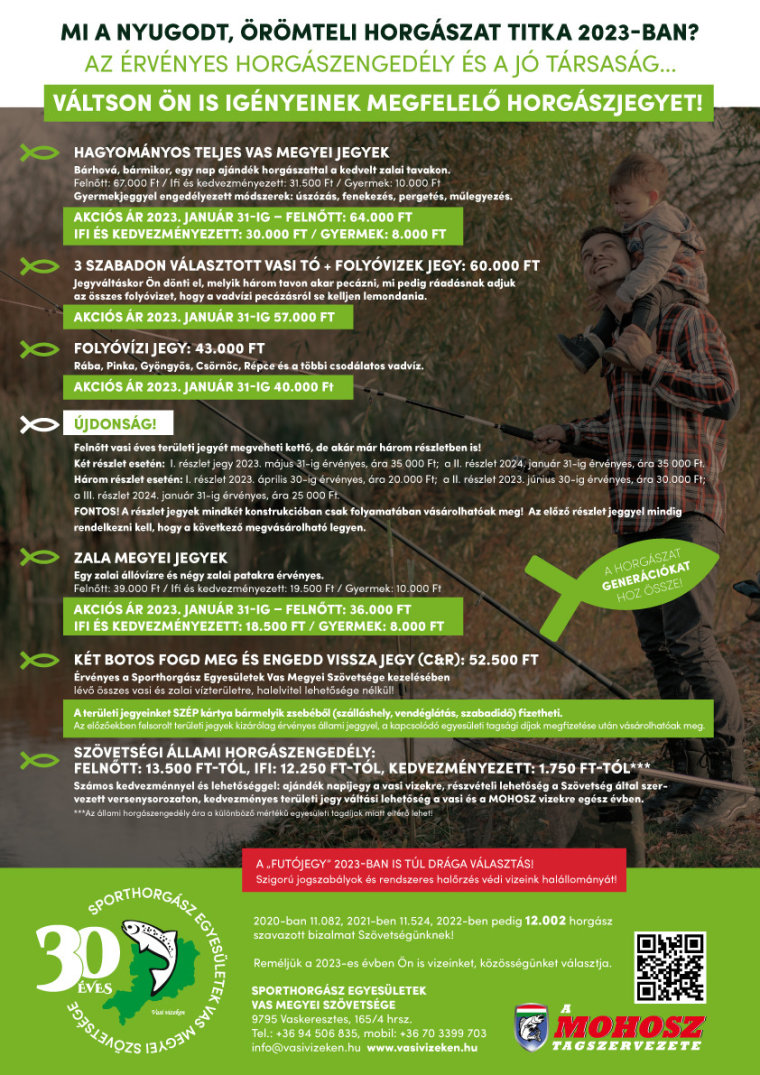 Appointments can be made by calling +36 94-506-835; +36 70 3399 703 or by e-mail at info@vasivizeken.hu. After making an appointment, the colleagues will continue to be available to fellow anglers in the following customer service order in 2023:
Monday: 8:15 a.m. – 3:45 p.m.;
Tuesday: 8:15 a.m. – 3:45 p.m.;
Wednesday: 8:15 a.m. – 3:45 p.m.;
Thursday: 8:15 a.m. – 3:45 p.m.;
Friday: 8:15 a.m. – 2:45 p.m.;
Saturday-Sunday: no customer service.
Our news about this is also available on our Facebook page, for those fellow anglers who share this news on their social media pages, on January 04, 2023 at 2:00 p.m., we will raffle 1 service area ticket valid for all our waters, and 5 HUF 5,000 vouchers for iron waters. The shares will be registered until January 4, 2023 at 1:30 p.m. We wish you good luck!
We hope they will continue to choose our waters and our community in 2023!
Downloadable Documents