Our traditional fishing ticket promotion starts in the new year
True to the traditions of previous years, we are launching our hugely popular regional fishing ticket campaign in January 2022. In the last period, we delivered a total of 11,800 state fishing documents to the points of sale with the help of postal and fishermen.
In accordance with the MOHOSZ regulations, we have again produced the majority of our previously available regional tickets electronically, the sale of which in January also has no obstacles.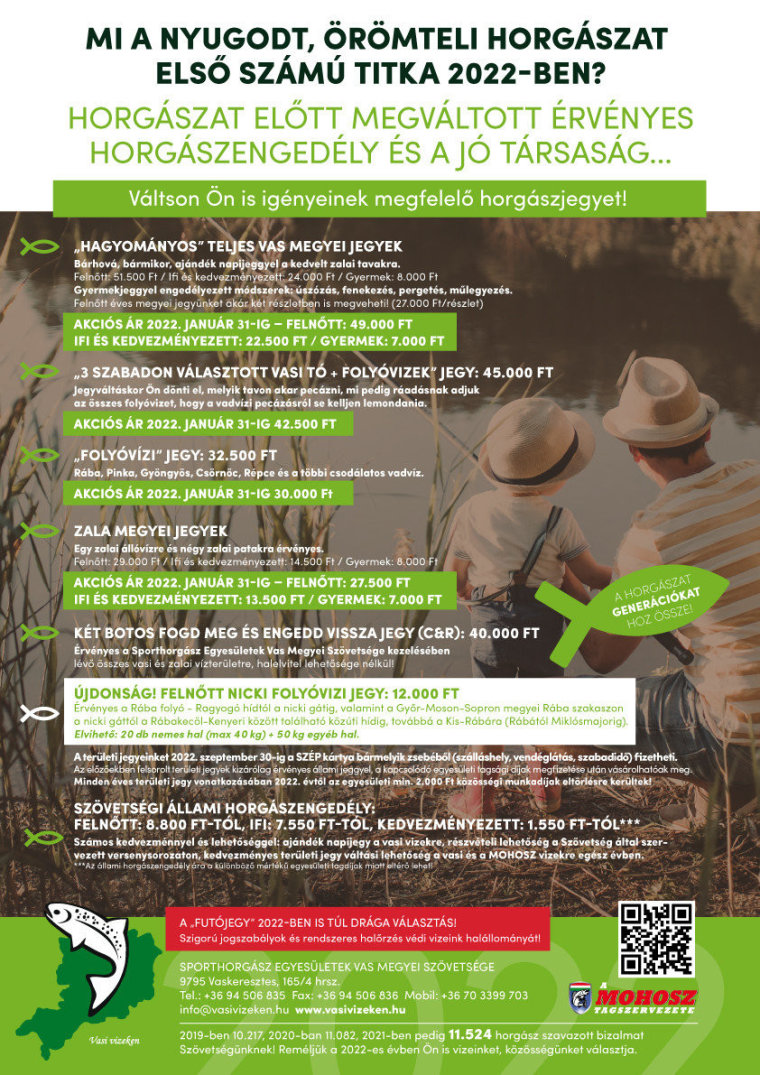 ⚠️ We would like to remind our fellow fishermen that the state tickets and annual area tickets for 2021 are valid until 31 January 2022, so they can be used for fishing without any problems at the beginning of next year. The sale of 2022 area tickets will start in the first half of January at most of our fishing associations.
☝️ Attention! During an epidemic caused by a new type of coronavirus as an emergency, be patient and keep away from other customers when changing tickets. Arrive at the association's sales outlets at a distance of 2 meters and in all cases in a mask covering the mouth and nose. Familiarize yourself in advance with the customer reception rules of the associations and strictly follow the specific regulations of the ticket sales points.😷
Other useful information:
🐟 Availability of annual state and regional fishing ticket distribution points >>>
🐠 Ticket prices from January 1, 2022 >>>
🐟 Purchase a federal area ticket with a SZÉP (leisure) card >>>
🐠 You can even order your permit at home >>>
🐟 Changes to the fishing order from 01.01.2022 >>>
🐠 Fishing order in a unified structure from January 1, 2022 >>>
In the Iron Cross Customer Service Office of the Association, the possibility of personal administration (eg: exchange of tickets, application for a fishing card…, etc.) is provided by prior arrangement from 05 January 2022.
Appointments can be requested by calling +36 94-506-835; +36 70 3399 703 or by e-mail at info@vasivizeken.hu. After an appointment, colleagues will continue to have the following customer service arrangements available to anglers in 2022: Monday: 8:15 a.m. - 3:45 p.m .; Tuesday: 8:15 to 15:45; Wednesday: 8:15 to 15:45; Thursday: 08:15 to 15:45 Friday: 8:15 to 14:45; Saturday-Sunday: no customer service.
📆🐠 🎁 💲 📣 This news is also available on the Facebook page, those fishing associates who share this news on their community page will draw 1 service area ticket valid for all our waters on January 4, 2022, 5 vouchers on iron waters worth HUF 5,000. , 10 Vas County Fishing Calendar for 2022. Shares will be registered by 1:30 PM on January 4, 2021. We wish you a lot of success! 🐟 🎁 💲 🐠📆
Let's take care of each other so we can meet everyone on the shores of the Iron Waters in 2022!
Downloadable Documents