Method Feeder OB. There will be a ban on Lake Abért during the semi-finals
The Hungarian National Fishermen's Association VI. Method Feeder OB. One of the venues of the semi-final will be the Abért II. lake. 40 competition anglers entered the competition. The pecs come from all over the country. Among the starters will be a number of nationally recognized feeder anglers, such as world champion competition angler Gábor Döme.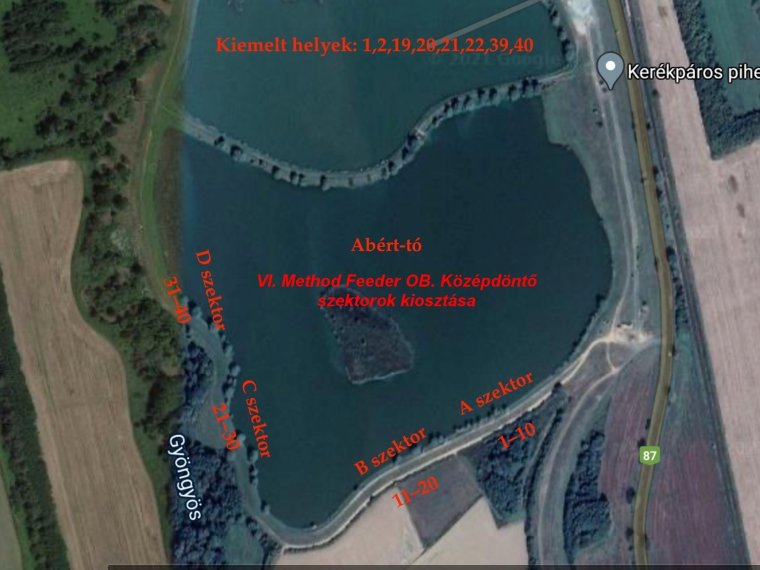 In order to hold the competition successfully, May 18-23, 2021. Between 7:30 a.m. and Tuesday (Sunday-Sunday), there will be a general ban on fishing in the Abért II. on the lake for non-competitive anglers!
Abért II. on the lake before 7.30 am and after 4.30 pm it is only possible to fish outside the competition track.
It is possible to fish on Lake Abért I without interruption during the closed season.
Thank you for your understanding!
Method Feeder OB. participants:
Place Name
1 Bálint Tóth
2 Tama József
3 Krisztián Veres
4 Károly Mészáros
5 László Kovács
6 Gábor Döme
7 Gábor Kondor
8 Pető Brown
9 Tamás Szabó
10 János Varga
11 ifj. József Glück
12 Péter Horváth
13 ifj. Jenő Tóth
14 Tamás Kéval
15 Péter Máthé
16 Attila Debrődi
17 Zsolt Pintér
18 Zsolt Bodnár
19 Kálmán Balogh
20 Antal Molnár
21 Péter Bakó
22 Dávid Viktor
23 Roland Mészáros
24 József Papp
25 Kornél Kálló
26 Zoltán Péter
27 Dénes Németh
28 Antal Kardos
29 Tibor Szegedi
30 Zoltán Török
31 Pál Túri
32 Martin the Great
33 Attila Cseh
34 János Novák
35 Krisztián Csoltó
36 Ákos József Szabó
37 Lajos Csanádi
38 Tótok Gergely Levente
39 Csaba Fodor
40 Bank Bálint
We wish you a successful preparation and competition!