With nearly 100kg of catfish, he became less after the race
On Saturday, August 03, 2019, the Dwarf Catcher Cup was organized on Saturday, August 03, 2019 at the Püspökmolnár Gravel Mine.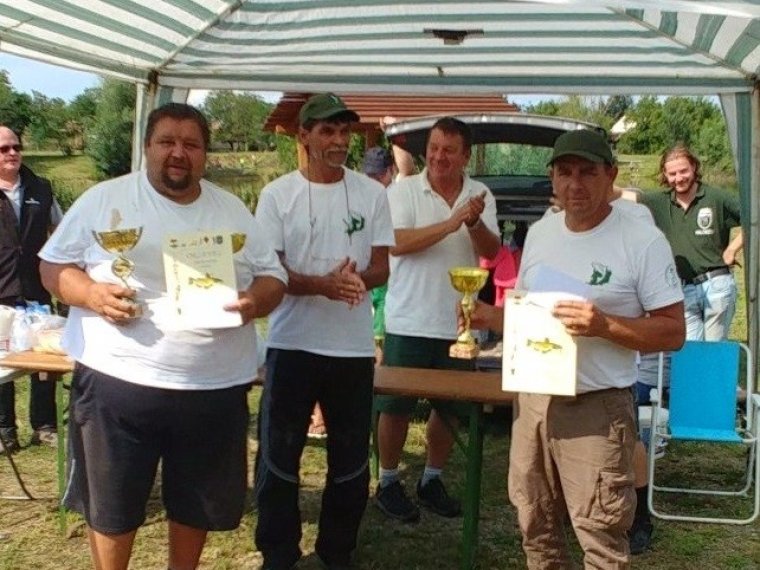 At the time of entry, 16 teams of 2 had registered for the event. After the opening and the draw, each participant took their place in the draw, and at 9am the 6 hour race began, which was in great spirits.
At 3 pm the event was closed. Based on the results of the subsequent weighing, the 16 teams caught a total of 99,825 grams of catfish.
After eating lunch, there was the result announcement, in the following order:
1st place: Fish-Robbers: Pajtli László –Pajtli Szabolcs 7880 gr.
2nd place: Heavenly Fish: György Zsankó - István Fördős 7806 gr.
3rd place: Borsos Team: Attila Borsos – Tamás Borsos 7700 gr. sum. cooperation.
1. Attila Boros 4420 gr.
2. István Fördős 4306 gr.
3. Attila Vámos 4305 gr.
1. Wagon Bianka 2515 gr.
2. ÁronHajós 1740 gr.
3. Free Rebekah 1590 gr.
The winners receive a cup, diploma, medal, voucher and the winning team can also keep the travel cup for one year.
We would like to thank Imre Gerencsér for his work as head organizer, and for the help of the weighing team and the cooking team during the event.
Special thanks to Spartacus SHE. to the management for their support!
Related gallery
Downloadable Documents