Garbolino - TackleBait Becomes Sponsor of New Name in Iron Waters Cup Series
We are pleased to announce that the Iron County Association of Sport Fishing Associations will further strengthen its excellent partnership with TackleBait Fishing Shop and Pet Food Trading and Garbolino Wholesale in 2022-2023, which will focus on supporting county competitive sports programs.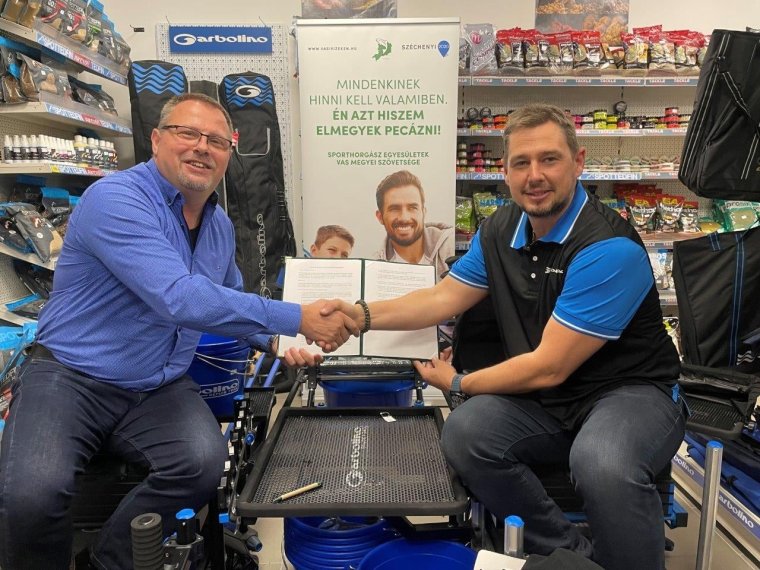 The Garbolino - TackleBait brands can be welcomed as the new, naming sponsor of the "Iron Sports Best Fishing Angle" competition series, which will be held for the thirteenth time this year.
Thanks to the official cooperation established on April 5, 2022, the most successful competitors at each stage of the competition series organized by the Association will be enriched with valuable TackleBait gift vouchers in the future, in addition to goblets and medals. The cooperation agreement was signed at the TackleBait Fishing Store in Szombathely, where Miklós Seregi, President of the Vas County Association of Sport Fishing Associations, thanked Tibor Geröly, Managing Director of BNT Business and Trading Kft. He further said that the Association currently operates in the form of a non-profit NGO in the area of 1397.19 ha as the owner of 44 Vas and 6 Zala fishing waters, and the number of fishermen of the organization reached a record of 11,524 last year. The dynamic development and popularity of the Association is shown by the fact that more and more companies are joining the ranks of the organization's supporters, which is why it is a great pleasure to welcome another French world brand, Garbolin, among our sponsors.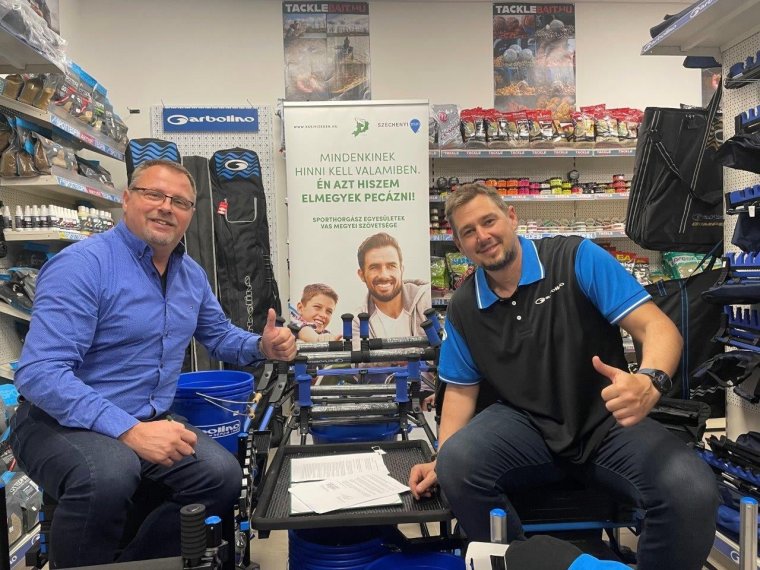 Garbolino has been on the market in Europe for over 70 years. With their high quality and high quality products, they also meet the needs of recreational anglers and competitive anglers. In Garbolino's fine-tuning fishing innovations, French elegance meets precision. The well-known and popular fishing brand works with a number of European competitive anglers to continuously improve and expand their product range.
The 460 m2 TackleBait Fishing Store opened its doors in Szombathely at Zanati út 4 barely a year and a half ago, and its full product range is also available in the webshop at www.tacklebait.hu . One of the most important goals of the company is to make the products of the top domestic and European fishing brands available to anglers both locally and online. With a selection of quality and tried and tested products, every angler can find what they need on the waterfront. TackleBait's philosophy and motto is "you can find everything (even) with us", if you don't already have it, it will be located and procured by a sales team of expert anglers!
The "Garbolino - TackleBait - Vasi Waters Best Sport Fishing" series now starts on Sunday at Gersekarát Mud Lake, where 52 main competitors will compete in the hobby and competition categories.
Thank you for your trust and support!